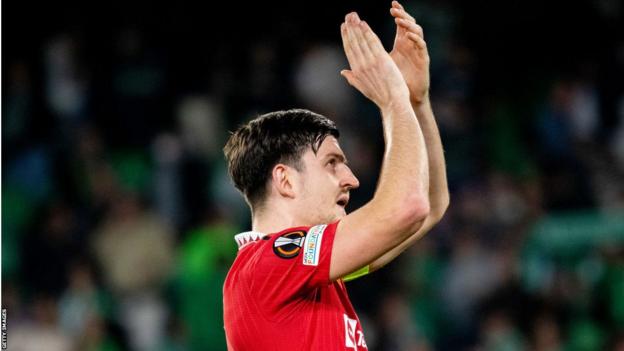 Manchester United captain Harry Maguire says he has "an important role" to play after the Red Devils beat Real Betis to reach the Europa League quarter-finals.
Maguire, who started in Thursday's win, has made just five starts for United since the World Cup.
He was included in manager Gareth Southgate's England squad on Thursday.
"I have an important role on and off the field at this club and every day I try and make this club succeed whether I'm playing or not," Maguire said.
Speaking to BT Sport after United's 5-1 aggregate win, he added: "Obviously I want to play and start more games, but I'm playing my part on and off the field.
"It's nice to get out there and lead the team, which is the most important part for myself and for the group."
Maguire joined United for £80m in August 2019 but has struggled for minutes this season with United manager Erik ten Hag preferring new signing Lisandro Martinez and Raphael Varane at centre-back.
Ten Hag 'pleased' with Pellistri
Ten Hag gave a first start to winger Facundo Pellistri in Seville. The 21-year-old impressed in his seventh United appearance, hitting the post at the end of the first half.
"I think all the players did very well," Ten Hag told BT Sport.
"Once again the players that came in did a good job and gave a good performance. So you can see we are not just 11 players we are a squad.
"For Facundo [Pellistri] it was great to come in, he had some good moments. He had a good performance in training but a game is different. At the start you have to come in but you saw after some minutes he got belief and he had some really good actions.
"In defence especially he did his job so I am really pleased with his performance."
Source:BBC