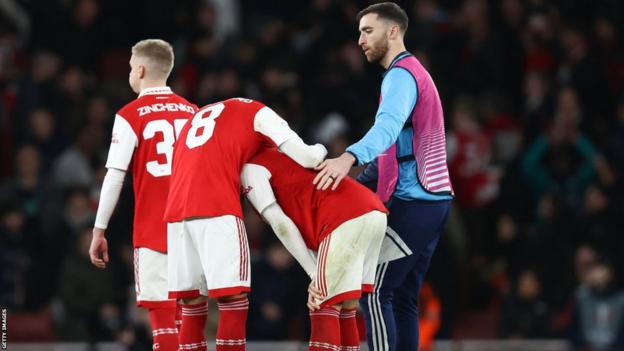 Arsenal's European hopes ended on Thursday with defeat by Sporting Lisbon – but could it ultimately prove a blessing in disguise?
In a gruelling 120 minutes, Arsenal conceded a stunning 46-yard equaliser, lost players to injury and ultimately came away with nothing.
Mikel Arteta believes Takehiro Tomiyasu's injury looks "pretty serious" after the Arsenal star left the Emirates on crutches, while William Saliba was also replaced early on with what appeared a back problem.
Arteta described "disappointment", but also "clarity" as they aim for their first Premier League title in almost 20 years. So will this hurt Arteta's side – who currently lead the Premier League by five points – or will it be a 'blessing' with title ambitions in mind, as suggested by former defender Martin Keown?
'The next game is a final'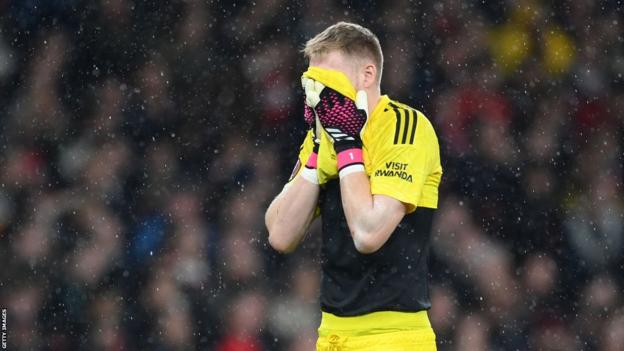 Arteta described the defeat as "a huge blow" given their efforts over two fiercely competitive legs.
Arsenal had taken the lead against Sporting through Granit Xhaka, only to see it cancelled out by Pedro Goncalves' stunning 46-yard chip.
Eventually, Gabriel Martinelli's spot-kick was saved in the shootout, ending a run of six games undefeated in all competitions for the Gunners.
"We didn't win enough duels in certain spaces. We didn't put the ball under pressure well enough. We gave the ball away consistently and it created a really open game we didn't want to play," Arteta said.
"We just have to look at ourselves and why we were not good enough to go through. Our next game with Crystal Palace is a final.
"We've been carrying injuries throughout the season, but we dealt with it. The disappointment is not going to go away it's there now. But there's also a clarity.
"It's 11 games to go now and we have a final against Crystal Palace. We have to recover and put all the focus there and win."
On the injuries sustained by Tomiyasu and Saliba, Arteta added: "Tomiyasu looks pretty serious, for his reaction straight away and what he said to me.
"Obviously, it's very early and difficult to know. William, I don't know. He had some discomfort and could not carry on, so we had to take him off."
Arsenal captain Martin Odegaard, who came on as a substitute in extra time, said they did not "play their best", and their focus now switches solely to the Premier League title.
"We have to remember it's been a great season," said Odegaard.
"It's a big blow to go out of this competition but now we look forward to the league, that's all we can do now.
"We win and lose together. When we're winning everyone is happy, when we lose we have to pick up the spirit."
'A game too many' – is Arsenal's exit a 'blessing?'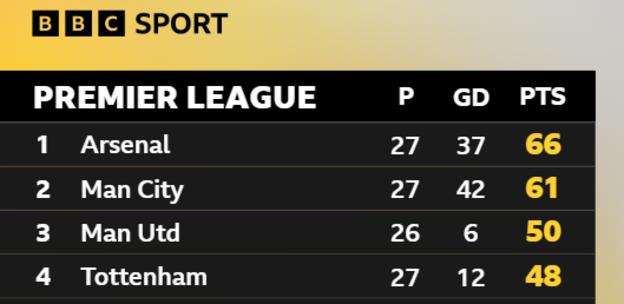 Former England striker Chris Sutton said Thursday's result could prove to be a "pivotal night" in Arsenal's season depending on the impact it has on their Premier League title challenge.
Arsenal host Crystal Palace on Sunday – just three days after their Europa League exit – and could feel the effects of injuries to Saliba and Tomiyasu, who were forced off in the first half.
"I think most Arsenal fans would have wanted them to prioritise the Premier League," Sutton told BT Sport, when asked about Arteta making five changes to the starting line up.
"There will be a concern over Saliba. It is how much it has taken out of them. If they don't win on Sunday people will look back on this as a pivotal night."
But former Arsenal defender Keown thinks it could be a "blessing" to not have to balance squad rotation anymore.
"There's disappointment for Arsenal but you wonder, is this a blessing? Does it affect the momentum? I think not. There were a couple of injuries [though] so it could be an expensive defeat," he told BT Sport.
"But it almost seemed a game too many. Arsenal weren't even in Europe last season. Maybe it is a blessing they have gone out.
"The Premier League is looming so large [and now] they can go at it wholeheartedly. Arsenal are trying to hang on to Manchester City but we shouldn't be that surprised they have fallen foul with all the changes [against Sporting].
"They so desperately want to win the Premier League and it was too much to change their focus to another tournament."
'The execution was out of this world'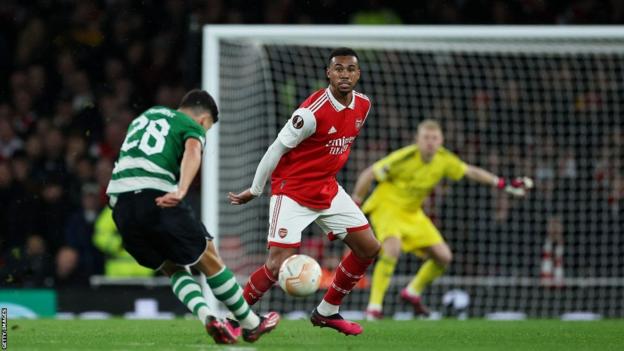 The undoubted highlight of Thursday's event-packed, tense and dramatic night was Goncalves' equaliser for Sporting – a goal as bold as it was brilliant.
Coming 62 minutes into the contest, it was set up by some typically effective harrying from the visitors near halfway, which resulted in the ball breaking to the 24-year-old midfielder.
One glance up was all he needed to spot Aaron Ramsdale off his line before executing a pinpoint chip that sailed over the back-pedalling keeper and into the only tiny fraction of space via which he could feasibly find the net.
It was a goal that evoked memories of David Beckham's famous lob over Neil Sullivan for Manchester United against Wimbledon in 1996. Or, if you want to give things an Arsenal bent, the effort from the halfway line from Nayim for Real Zaragoza that helped consign the Gunners to an extra-time defeat in the 1995 Cup Winners' Cup final.
At 46.05 yards, Goncalves' effort was the longest-range goal scored in a Europa League game since Harry Winks' strike for Spurs against Ludogorets Razgrad in November 2020 (53.98 yards).
It is eighth in the overall list of long-range Europa League goals led by Jordi Gomez, whose goal for Omonia Nicosia against PSV in October 2020 clocked in at 61.19 yards.
"You can't help thinking he would have looked and known Ramsdale always sets quite high but the execution was out of this world," Keown told BT Sport. "He doesn't even look up, it is sublime, a wonderful effort."
On BBC Radio 5 Live, former Middlesbrough goalkeeper Mark Schwarzer said: "He looks up and gets his head down straight away, sees Ramsdale off his line.
"It looks like Ramsdale is going to get back to make the save but it just out of his reach and it smashes into the back of the net. An unbelievable strike."
'Could that result win Arsenal the league?' Your views
Nick: A shame, but maybe a blessing in disguise this season. Arteta making too many changes has cost us tonight. We don't have a good enough second string for that yet. He needs to remember he's not at Man City anymore!
Sam: Sporting deserved that just for that incredible goal. Great tie overall. Arsenal will be upset but they can now just focus on maintaining the lead at top of Premier League.
Fqiren: Fantastic result for Arsenal. Wasn't going to be good enough to win it anyway. Champions League football, which was their primary aim this season, is more or less secured via the league too. Can just save the bodies for their 11 remaining finals now in the league.
Rashid: Tonight is the night when Arsenal started to fall apart this season.
Paul: Wanted us win and we fielded a team to win but we were not good enough. Yeah losing will maybe help us with the title challenge but that wasn't what we came into this game for. We wanted to win and lost and so it's a failure.
The Lonely goalpost: Could that result win Arsenal the league?655
Source:BBC
Photos by Getty Images.