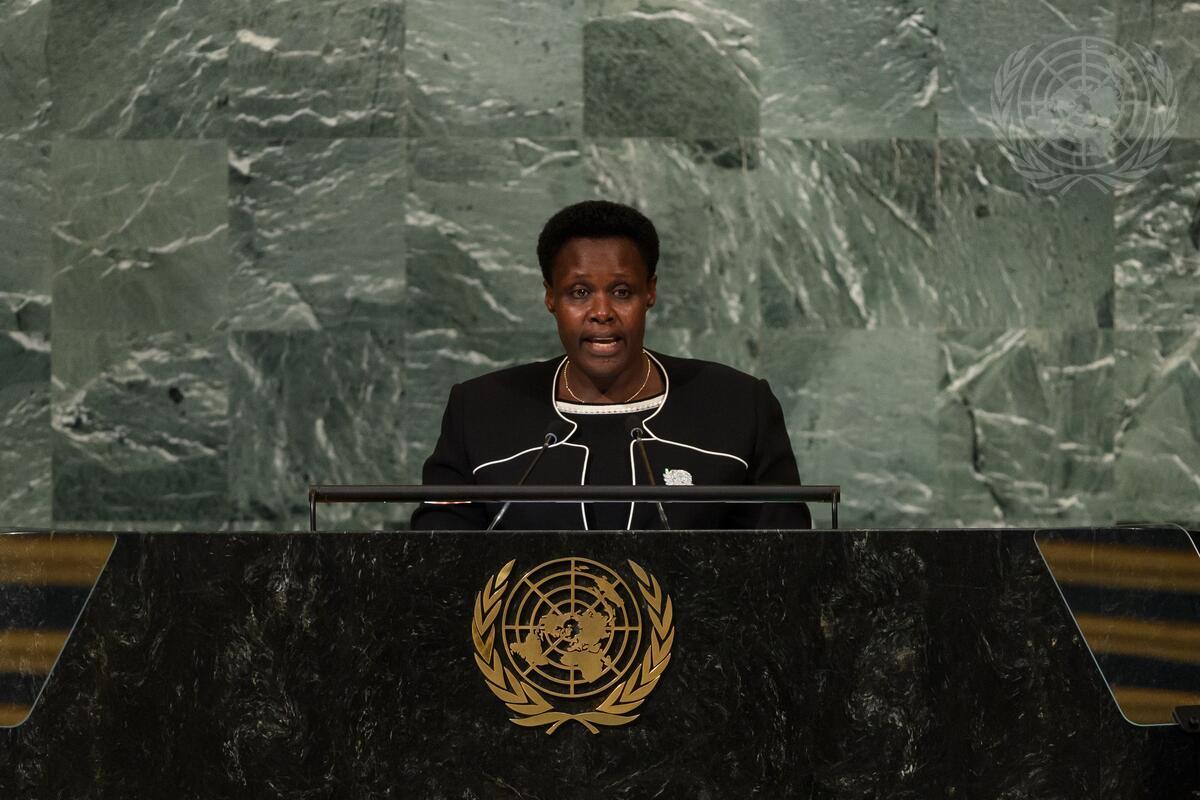 Statement Summary:
JESSICA ALUPO, Vice-President of Uganda, called for strengthening of  international solidarity and cooperation to address common challenges, such as poverty, health, food insecurity, climate change and biodiversity loss.  The need to revitalize the Organization is stronger than ever and multilateralism is crucial for meeting the common challenges faced by all countries.  It is also essential to scale up the production of the world's vaccination capacity to mitigate the effects of COVID-19.  She thanked the many partners that have helped Uganda in this matter.  Stressing that achievement of the global goals is crucial for the world and the institutional architecture must be strengthened to keep countries on track to achieve them by 2030, she said her Government has mainstreamed the global goals into its national development plan and works with other stakeholders to ensure collaboration with all actors.  This requires support in the areas of technology transfer, capacity-building and financing.
Climate change is one the greatest challenges of all time and Africa suffers disproportionately, she said.  Uganda is experiencing many problems, including drought, the melting of ice caps and floods.  It is regrettable and hypocritical that some of the regions and nations that have mismanaged the environment and are disproportionately responsible for global warming have embarked on a rigorous campaign to thwart the efforts of other countries to responsibly and sustainably develop the oil and gas sectors.  Development should be environmentally friendly, inclusive and provide benefits for all.  "It should leave no one behind," she said.  Uganda has scaled up its investments in climate adaption, for example, increasing its access to clean energy and expanding the forest and wetland covers. Her country is playing a vital role in helping developing countries to meet challenges and it will keep strengthening North-South, South-South and triangular cooperation with the United Nations.
As the world faces many challenges, the conflict in Ukraine is causing more destruction, she said, expressing deep concern about loss of life and suffering.  She supported a dialogue to reach a peaceful end to the conflict that ensures the safety of all.  Turning to terrorism, she said no region of the world has been safe from the scourge of and Uganda supported all global and regional counter-terrorism efforts.  Peace, security and development are linked and should be pursued together.  The Ugandan Government plays a part in regional groups to build peace, including the African Union and the International Conference on the Great Lakes Region.  Stressing the refugee situation is a crucial regional issue, she said Uganda had 1.5 million refugees, the largest refugee population in Africa and the third-largest in the world.
Turning to reform of the Security Council, she said equitable reform was more necessary than ever before and Africa, which has more than 1 billion citizens and is the topic of 70 per cent of Council agenda items, is not represented.  This balance needs to be taken care of with comprehensive Council reform, which she hopes can be achieved in the inter-governmental process.  The Non-Aligned Movement is a strong pillar to address global challenges and Uganda remains committed to working with other countries in this group.  Her Government looked forward to hosting the nineteenth Non-Aligned Movement Summit in Kampala in December 2023, she added.