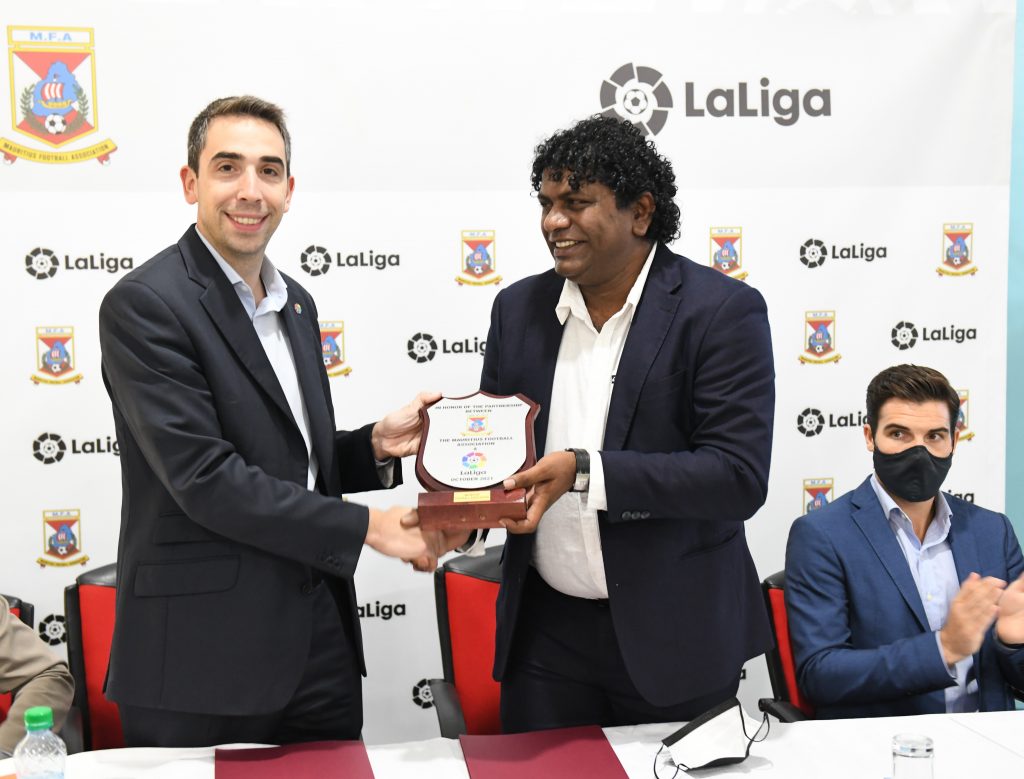 LaLiga on Friday signed a co-operation agreement with the Mauritius Football Association (MFA), which will see the football community on the Indian Ocean Island benefit from the expertise and knowledge of some of LaLiga's top UEFA Pro licenced coaches.
LaLiga Southern Africa Managing Director, Marcos Pelegrin, was in Mauritius on Friday to sign the agreement with the MFA, with the first tangible action being a workshop for all professional coaches in the local Mauritian league, conducted by senior LaLiga Coaches.
LaLiga will also facilitate an exchange of knowledge and information between the LaLiga Coaches and the national coaches of the Mauritian Under 15 and Under 17 national teams.
LaLiga has a partnership agreement in place with the Council of Southern African Football Associations (COSAFA) and the agreement with the MFA follows a series of virtual masterclasses conducted by LaLiga in April and May this year with 70 grassroots and 14 professional COSAFA coaches
Mauritius joined COSAFA in 1999 and have been regular competitors in its tournaments since its admission.
"We are really proud to sign this co-operation agreement with the Mauritius Football Association. The development of coaches and footballers at grassroots level is one of the top priorities identified by COSAFA for the region and we are happy that we are not simply paying lip service to this important requirement in Southern African football, but that we are able to share first-hand LaLiga's experience, knowledge and support with Southern Africa's football fraternity. Football of course remains by a long way Mauritius' most popular sport, and we are delighted to offer a hand of friendship and support to the MFA to help grow the game and share Spanish football's philosophy and methods from some of LaLiga's top coaches," said Pelegrin.
Mauritius Football Association President, Mr. Samir Sobha, says the MFA is proud to sign this partnership agreement with LaLiga in the interest of the development of Mauritian football.
Mr Sobha said the agreement was part of several strategic collaborations with expert organisations such as LaLiga, in line with the MFA's commitment to strengthen the implementation of its' strategic objectives to transform and improve the performances of Mauritian footballl.
The MFA is focused on the implementation of different empowerment programs in particular in the education, development and professionalisation of the local Elite Football Clubs and other internal-external stakeholders in the following areas:
Sports management
Commercial & Marketing, Match organization, Security and international strategy
Communication and digital strategy.
Financial Management.
Coaching
Sports medicine
Sports Science
Grassroots
Other focus areas for the LaLiga and MFA partnership are:
Development of Training Seminars focused on different roles of clubs to encourage the exchange of information to face new challenges in the football industry.
Organisation of Coach Training Programs to delve into the latest advanced practices and contemporary techniques in the field of professional coaching.
Providing guidance and assistance in developing women football.
Providing guidance and assistance in youth development programs and providing mentoring for football leagues.
To create exchange programs & specialized football training camps both in Mauritius and Spain.
The MFA is committed to improving performances and the popularity of Mauritian football both on and off the-field and at local, regional, continental and global level, which is among the main objectives of the 7-years strategic-plan of Mauritian football.— Plaines Wilhem