Lautaro Martinez scored twice as Champions League finalists Inter Milan came from behind to beat Fiorentina and win their second consecutive Coppa Italia title.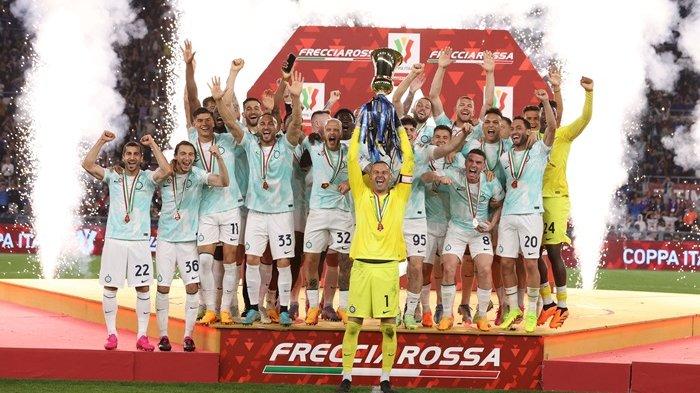 Inter Milan players celebrate with the trophy after winning the 2023 Coppa Italia. | PHOTO: Sky |
Inter Milan played Fiorentina in the 2023 Coppa Italia final held in Rome on Wednesday night
Inter were the defending champions having won the competition in 2022
They had to come from  a goal down to oust Fiorentina and retain the trophy to win both domestic cups
In the 2023 Coppa Italia final held in Rome, Inter Milan demonstrated their resilience by overcoming an early deficit to secure a victory against Fiorentina. This triumph was largely attributed to the exceptional performance of their star forward, Lautaro Martinez, who scored two crucial goals.
By claiming this Coppa Italia title, Inter ensured that they would conclude the season with a minimum of two trophies. Earlier in January, they had already emerged victorious in the Supercopa Italiana, triumphing over their city rivals, Milan. The Nerazzurri's success in retaining both domestic cups mirrored their accomplishments in the previous season, 2021/22.
Under the guidance of manager Simone Inzaghi, Inter's pursuit of silverware may not be over yet. They are on the verge of achieving a treble of trophies this season, with the highly anticipated Champions League final against Manchester City scheduled for next month. This momentous occasion will mark Inter's first appearance in the Champions League final since 2010.
However, the final against Fiorentina did not initially go according to plan for Inter. Within three minutes of the match, Nico Gonzalez of Fiorentina found the back of the net from a difficult angle, granting his team an early advantage.
Nevertheless, Martinez had other ideas. Around the 30-minute mark, the Argentine forward expertly positioned himself behind the Fiorentina defence to receive a well-executed pass from Marcelo Brozovic. Employing a skilful stepover move, Martinez gained control of the ball and unleashed a powerful shot, thus equalizing the score.
Before the first half concluded, Inter completed their comeback by taking the lead. Nicola Barella delivered a well-placed ball into a dangerous area, and Martinez leapt forward, striking the ball with his right foot to volley it into the net. This decisive goal ultimately secured Inter's victory.
Inter's veteran goalkeeper, Samir Handanovic, also played a pivotal role in preserving their lead. In the closing moments of the match, he made two crucial saves, denying Fiorentina substitute Luka Jovic as he threatened to bring the game into extra time.
The triumph in the Coppa Italia final not only highlighted Inter's resilience and determination but also set the stage for their upcoming clash against Manchester City. With their sights set on achieving the coveted treble of trophies, Inter will undoubtedly approach the Champions League final with great anticipation and ambition.