Manchester United have won their first trophy since 2017 but will have earned just £100,000 in prize money for their endeavours.
First-half goals from star midfielder Casemiro and the unstoppable Marcus Rashford, with the help of a heavy deflection off Sven Botman, broke Newcastle United's hearts with Eddie Howe's team banking only £50,000 for their efforts.
That will barely cover half a week's wage for one of their highest earners as the secondary domestic knockout competition's financial value was placed in stark contrast with what can be banked elsewhere. But the clubs will at least have split the gate receipts at Wembley, where 87,306 fans had been in attendance.
Nottingham Forest and Southampton, who lost the two-legged semi-finals, made £25,000 each.
Every other participant, including the four beaten quarter-finalists, failed to make a penny in prize money – though the same approach to gate receipts exists across all rounds. The competition's lack of financial value is put into even greater context by what both finalists will make if they seal top-four finishes in the league.
Reaching the Champions League is worth more than £50m before a ball is kicked and without factoring in UEFA's solidarity payments from their broadcasting pool.
Manchester United players celebrate Casemiro's opening goal at Wembley. ( 
Image:
Getty Images)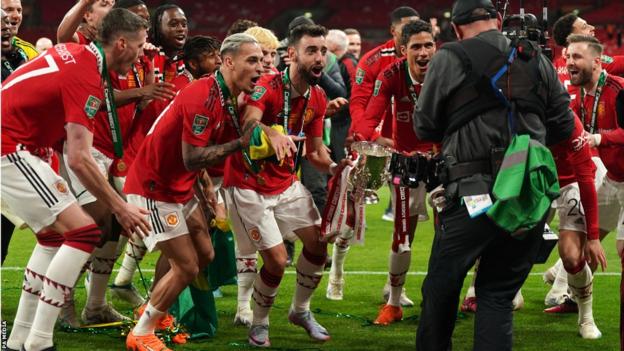 Manchester United midfielder Bruno Fernandes says "we want more and need more" trophies after the Carabao Cup final win over Newcastle United.
First-half goals by Brazil midfielder Casemiro and an own goal from Dutch defender Sven Botman secured the Red Devils a first trophy in six years.
"We have been searching for this moment," Fernandes told Sky Sports after the 2-0 win at Wembley.
"I am satisfied now because I get my trophy but I want more."
Portugal international Fernandes added: "It's the first trophy of the season but we want more and need more. This is not enough for this club."
Sunday's victory was the first time the club had lifted a trophy since the 2016-17 season, when they won both the EFL Cup and Europa League under Jose Mourinho.
Manchester United are still chasing more domestic and European honours this season.
Erik ten Hag's side defeated Barcelona to reach the last 16 of the Europa League while they face West Ham United at Old Trafford in the fifth round of the FA Cup on Wednesday (19:45 GMT)
The Red Devils are third in the Premier League table, eight points behind leaders Arsenal with 14 games to play.
Source:BBC