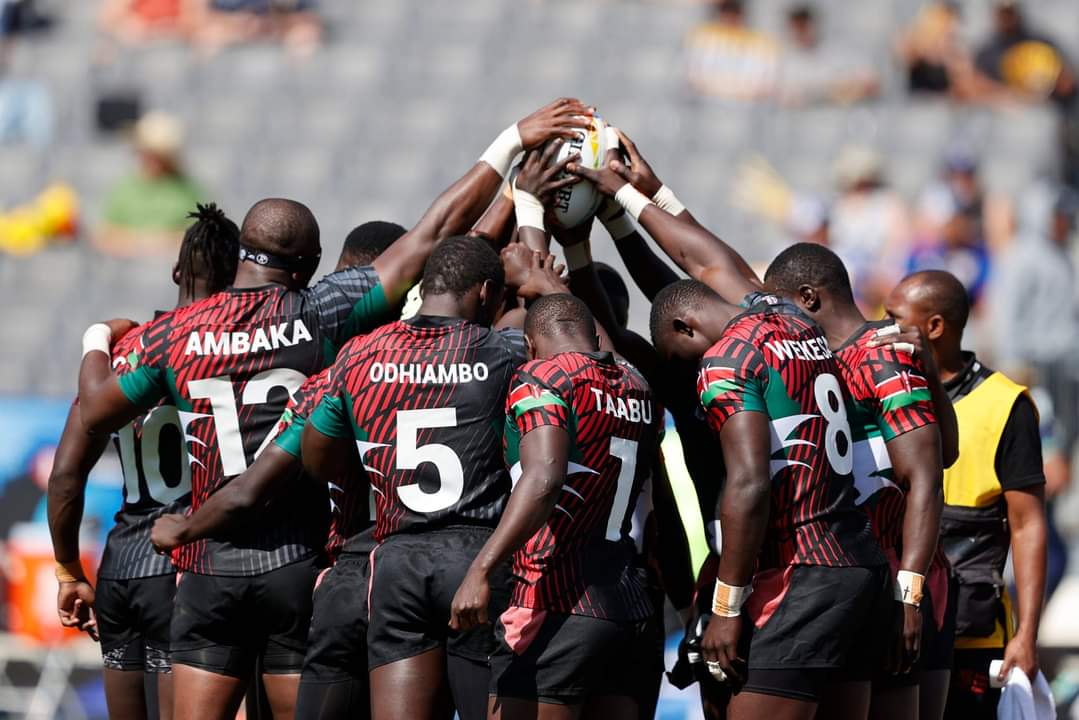 Shujaa at the Hong Kong Sevens. PHOTO/KRU
Shujaa have made changes to the squad for the Americas trip
Brunson Madigu has been handed a debut
Kenya is placed 12th in the standings
Shujaa head coach Damian McGrath is confident of a positive outing as the team heads out to the Americas tour of the World Rugby Sevens Series this weekend. Shujaa will play at the Vancouver and Los Angeles Sevens, with the aim of reaching the Cup quarters in both.
The team has had a tough season, making only one Cup quarter after five rounds and the tactician hopes this will change despite being in a very tough pool for the Los Angeles leg which starts this weekend.
"We are in a very tough group with Fiji and Australia who are immediate stumbling blocks to getting through to a quarterfinal but it should be noted that all the teams around us are now fighting to save themselves," said coach McGrath.
He added; "Japan, who are rock bottom, are in our group but are by no means an easy team to beat. They pushed teams close and it must be noted that they have been in the USA for two weeks preparing for this."
The coach believes the period they have had in training will be crucial for them and notes there is massive improvement in the team.
Two weeks of good training 
"We've had a good two weeks of training at Peponi School and we are thankful for all the help they give us. We are going to fight and try make sure that we can secure valuable points to help our ultimate aim of remaining on the world series," concluded McGrath.
Team captain Nelson Oyoo also believes the team has prepared well and says they will step on to the pitch to give their best.
"We are well prepared for the assignment coming in, and we want to get out of the relegation zone. For us to do that, we want to reach the quarterfinals. We have a higher chance, looking at the pool in Los Angeles. We would like to urge our fans in Los Angeles to come and support the team," he said.
For the Americas tour, coach McGrath has made three changes to the squad.
The Mwamba duo of Billy Odhiambo and Daniel Taabu return after missing out on the tour of New Zealand and Australia while there is a debut for Brunson Madigu of the Strathmore Leos.
Crucial legs for us 
"It's a crucial leg for us and we've picked the strongest possible available team. The three players who are coming in are Billy Odhiambo who brings a vast wealth of experience and it will be crucial for us at this time, Daniel Taabu whose been outstanding as a utility player and was badly missed on the last trip when he was unavailable for personal issues," said the coach.
Speaking about Madigu's inclusion, McGrath said, "Madigu has been outstanding in the local circuit…has so much talent and has trained so well, so we've decided it would be a great opportunity for him to taste some world series action."
Shujaa squad to Los Angeles and Vancouver
Nelson Oyoo (Captain), Herman Humwa (Vice Captain), Kevin Wekesa, Alvin Otieno, Dennis Abukuse, Brian Tanga, Tony Omondi, John Okoth, George Ooro, Billy Odhiambo, Edmund Anya, Daniel Taabu, Brunson Madigu
Source:Sports Leo