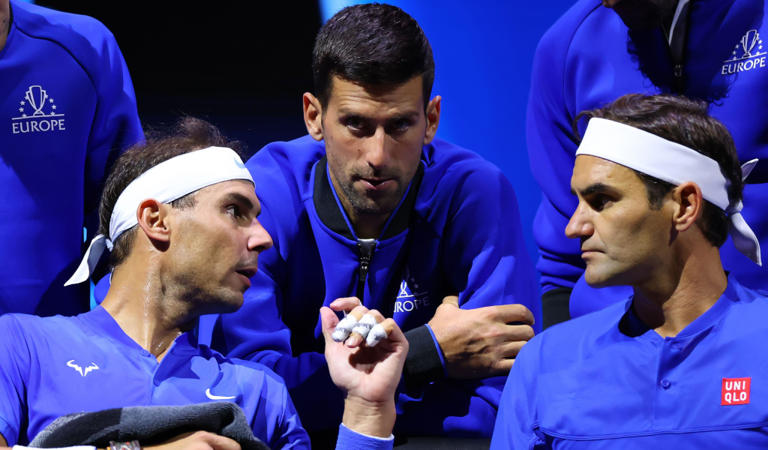 Just over a week ago Dominic Thiem stated that the greatest tennis player of all time (GOAT) will be the one who ends up with the most Grand Slams, but he now believes Rafael Nadal, Novak Djokovic and Roger Federer all deserve to be the GOAT.
Shortly after Djokovic won a 10th Australian Open title to draw level with Nadal on 22 Grand Slams, Thiem shared his thoughts on the debate about who will be tennis' greatest player once all is said and done.
"The Slams are what counts, so the GOAT will probably be the one with the most Grand Slams," the Austrian said.
If Grand Slams are the defining criteria then that would rule Federer out of the race as the Swiss icon has 20 majors to his name, but he won't add any more Slams to his collection as he retired last year.
Many believe Nadal and Djokovic will add at least one more to their tallies this year with the former the favourite to win a record-extending 15th title at Roland Garros and Djokovic expected to win an eighth Wimbledon title.
But Thiem has now clarified that he doesn't think the Grand Slams are the be all and end all when it comes to deciding the GOAT as Nadal, Djokovic and Federer "all three deserve it".
"I have a great relationship with all of them. I get along very well with all three and I admire them equally," he told Argentina's Ole. "All the time there is talk about who is better than the other and it really is not good. I don't like to say that.
"I think it's disrespectful to each one of them, they all achieved incredible things, that probably no one else will achieve in their life. There is no single GOAT, all three deserve it because they are unique."
Thiem was also asked about his hopes for the 2023 season after struggling the past few years.
After winning the 2020 US Open, Thiem suffered a slump in form in the early few months of 2021 before picking up a serious wrist injury that hampered his progress.
The 29-year-old started his season with a first-round defeat at the Australian Open, but he is determined to get over his slump.
"I am expecting to be able to win a game this year, that will be my first big objective: to be able to get out of this moment and get things flowing," the world No 96 said.
"Then, I want my ranking to go up. I have many goals, but the ranking seems fundamental to me because I am struggling to enter the main draws of the ATP events. So, first I think I need to end this streak."
Source:Tennis 365