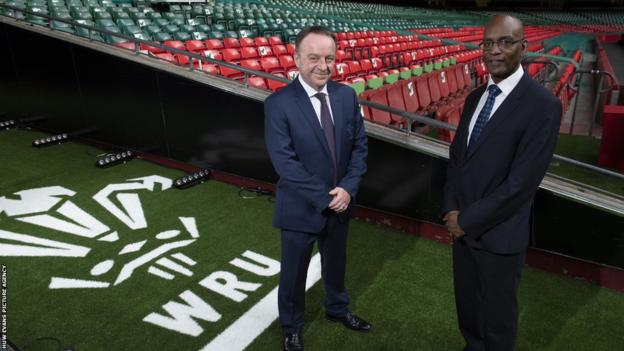 Welsh Rugby Union (WRU) chief executive Steve Phillips has resigned.
Performance director Nigel Walker will take over as acting CEO with immediate effect while the WRU search for Phillips' permanent successor.
Walker admitted Welsh rugby was facing an "existential crisis" and the WRU needed to do "much better".
Phillips, 58, had faced pressure over the governing body's handling of the issues raised in the programme.
All four regions backed calls by a Cardiff director for Phillips and the board to leave, while the Welsh Rugby Players Association said they were "appalled by the allegations".
Phillips had initially vowed to continue in his role, but has now heeded the growing calls for him to stand down.
"It is with a huge amount of regret that I have decided to hand in my resignation," said Phillips.
"I have always had the best interests of Welsh rugby at the heart of my every action and thought, but have come to the conclusion that it is now time for someone else to lead the way."
Phillips' resignation comes after a turbulent week for the WRU.
Two women complained of a "toxic culture", while another former employee heard a racist term used in a work meeting.
Former head of Wales women's rugby Charlotte Wathan said she considered suicide and claimed a male colleague joked in front of others in an office environment that he wanted to "rape" her.
The WRU says that particular accusation was independently investigated and remains unsubstantiated and it cannot comment further due to a legal settlement.
Amanda Blanc, now chief executive of Aviva insurance company, told the WRU it had a "deep rooted" culture and behavioural problems and that a union-commissioned review into the women's game was "beyond disappointing" and verged on "insulting to women".
In her WRU leaving speech, Ms Blanc, on the 2021 Forbes most influential women in the world list, said she was questioned whether she had "sufficient business experience" to be the chairwoman of the WRU's professional board.
Ms Blanc, a UK Government women in finance champion and Sunday Times Businessperson of the Year, quit after two years as Wales' Professional Rugby Board (PRB) chairwoman in November 2021 because she felt she was "not being listened to" and the WRU "needed modernisation".
In her leaving speech, Ms Blanc recalled a "truly offensive discussion" about reducing the sanctions for an elected WRU member after he had made misogynistic comments in public, including that "men are the master race" and women should "stick to the ironing".
The allegations had led to calls for Phillips to step down from figures within politics and rugby, while WRU sponsors expressed concerns over the revelations.
Phillips had apologised but had said he was still the best person to lead the WRU and had not considered his position. Chairman Ieuan Evans had also initially backed him to continue in the role.
Cardiff director and businesswoman Hayley Parsons then called for Phillips and the rest of the WRU board to leave their posts.
Her damning email to Evans was supported by all four Welsh regions and prompted the WRU chair to say the organisation is "not deaf to the observations and criticisms" it has received.
Evans said he was setting up an external task force to review the WRU's "culture, systems and structures" with Sport Wales advising on the make up and remit of the panel.
Evans is also to be questioned in the Senedd over the accusations.
Phillips was appointed as the permanent chief executive in March 2021, after taking over as interim the year before, following the departure of Martyn Phillips.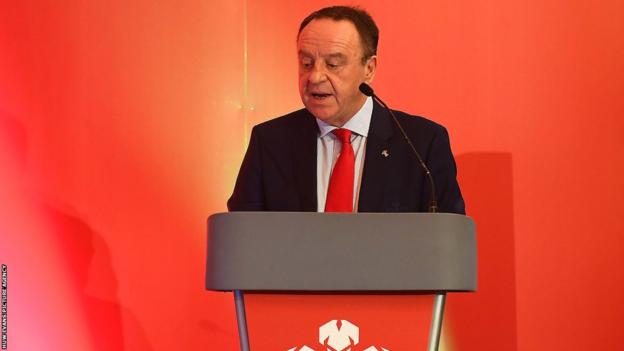 "This is a sport I love and is so admired around the world and I wish everyone involved in the game every success and my heartfelt best wishes," Phillips added.
"I am on record already saying how much I hugely regret the feelings and emotions expressed recently by former members of staff."
The WRU stressed that no allegations were made against Phillips in the recent BBC programme and he was not accused of any wrong doing.
"I thank Steve for his dedication and support for Welsh rugby," said Evans.
"He has made a significant contribution to our progress on the world stage in that time and most recently was instrumental in securing the return of Warren Gatland to the helm of the senior men's side.
"He successfully guided Welsh rugby through the coronavirus pandemic and has secured a new six-year verbal agreement with the PRB (Professional Rugby Board) and a signed 'heads of terms' designed to ensure a sustainable future for our professional game."
Former international Walker admitted he takes the helm at a turbulent time.
"There is no doubt that Welsh rugby is facing an existential crisis," Walker said.
"This has been a wake-up call. Perhaps it is a call that has been overdue. The first step to any recovery is admitting the problem.
"We must now listen intently to what people from outside our organisation are telling us. We care and are committed to equality, diversity and inclusion and we work hard in this space with dedicated resource and investment.
"But we need to do better. We need to do much better and we will."
Analysis – Wyre Davies, BBC Wales Investigates
After last week's revelations by BBC Wales about allegations of sexist behaviour, misogyny and bullying at the Welsh Rugby Union, a number of bodies – including fan forums, rugby clubs and major sponsors – expressed their anger and disappointment.
It was a situation that some compared to the racism crisis in Yorkshire Cricket and allegations of abuse at British Gymnastics.
In an initial response, the WRU's chief executive Steve Phillips appeared to suggest many of the allegations referred to events well in the past, that reforms were already under way and he was still the man to lead Welsh rugby.
But when the four Welsh professional rugby sides also backed calls for widespread change – including the resignation of the WRU board – the management found themselves isolated and Phillips has agreed to resign.
Alongside the setting up of a taskforce to probe allegations of misogyny, sexism, racism and homophobia, it might placate some critics but, on the eve of the Six Nations, Welsh rugby is still in crisis.
Source:BBCSport