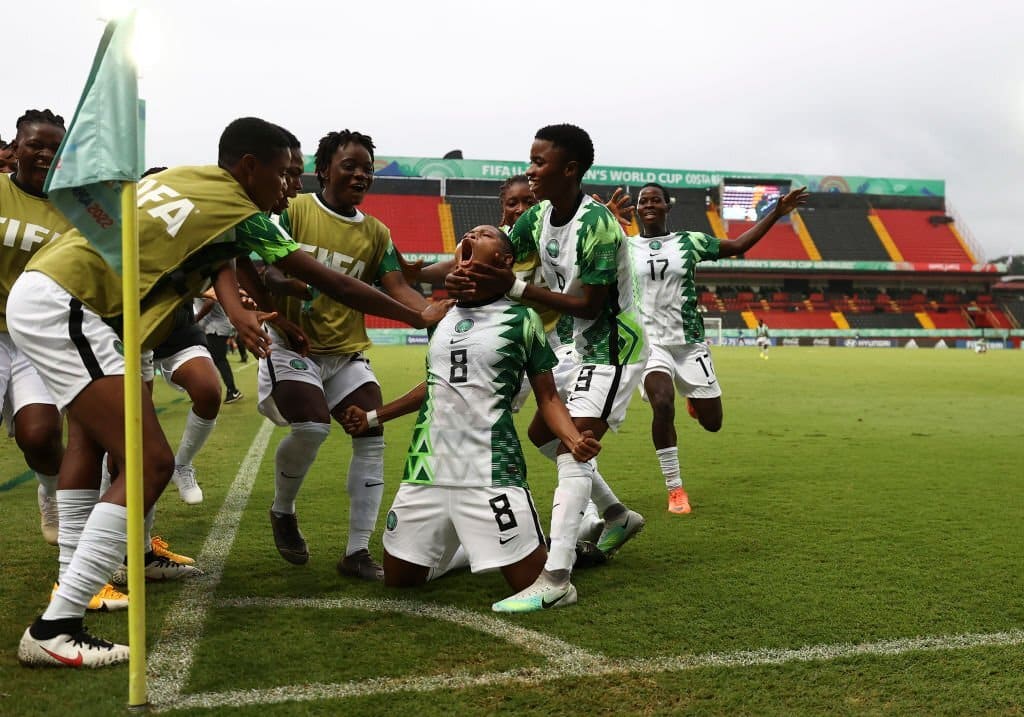 The Falconets of Nigeria defeated South Korea 1-0 to book a quarter finals ticket at the FIFA U20 WWC on Sunday thanks to a dramatic injury-time goal from Esther Onyenezide.
Onyenezide scored the game-winning goal as the tight match was about to end in a scoreless tie, giving the Falconets their second victory of the tournament.
In the history of the U-20 women's World Cup, the Falconets have now defeated South Korea three times in a row.
The team led by coach Christopher Danjuma will take on Canada in their final group match on Wednesday at 3 a.m. Nigerian time.
Due to heavy rain, the Falconets' match against South Korea, which was scheduled to begin at 9 o'clock, was delayed until 10.15 o'clock.
When the game finally started, the Falconets' Bashirat Amoo attempted a long-range effort from a free kick, but goalie Kim Kyeong-Hee calmly saved the shot.
South Korea came within four minutes of scoring, but Chun Ga-shot Ram's missed the target.
The Koreans launched another effort in the 22nd minute, and Lee Soo-In attempted a long range shot, but the ball struck the woodwork.
Amoo attempted an audacious long-range shot with four minutes remaining in the first half, but it missed its mark.
Onyenezide attempted a long cross into the box five minutes into the second half, but the South Korean goalkeeper leaped high to intercept the ball.
Three minutes later, Onyenezide's outstanding long-range shot compelled the Korean goalkeeper to make a save.
Korea came within inches of scoring in the 64th minute, but Oyono made a spectacular diving stop to divert a shot toward the top corner for a corner.
Finally, in the 82nd minute, a fantastic long range effort from Onyenezide found the back of the net after flying past the Korean goalkeeper.
In their relentless pursuit of the equalizer, the Koreans were unable to overcome the tenacious Falconets defense.
FIFA U20 WWC: Falconets Down South Korea To Reach Quarterfinals (africatopsports.com)