Champions City have not won a league game at Anfield in 15 years, and Riyad Mahrez wasted a glorious opportunity to send them clear when he missed a late penalty.
City's £60m summer signing from Leicester fired an 85th-minute spot-kick high over the bar after substitute Leroy Sane was brought down by Liverpool defender Virgil van Dijk.
It handed the Reds a reprieve as both sides extended their unbeaten league starts to eight games, with City now top on goal difference from Chelsea and Liverpool. All three are level on 20 points.
Klopp said: "It is a very intense, an unbelievable challenge to face Manchester City always – I've said that before – and as the last game of an intense period, it makes the challenge even bigger, so I am really happy with what the boys did.
"We've played City now that often and they're just outstanding."
City felt they were denied two earlier penalties when Dejan Lovren bundled over Sergio Aguero and Van Dijk handled in an aerial challenge – referee Martin Atkinson waving away the first appeal and awarding a foul for a push by Fernandinho in the second incident.
Mahrez also squandered City's other big chance in a game that failed to live up to expectations, dragging an effort wide, while keeper Ederson was virtually unemployed against Liverpool's normally potent attack.
Guardiola said: "We've had 40 or 50 years of not winning here and often we've lost. It's a good result – I'm so satisfied with what we have done.
"As a team you know Liverpool will punish our mistakes, and at the back we controlled it very well. So, it would be better to win at Anfield, but we don't lose, last season we lost here, this season we draw, maybe next season we win, we will see."
Thrills missing in Anfield stalemate
This Anfield confrontation was billed as a potential thrill ride between two sides who – along with Chelsea – have set the pace in the Premier League.
The league games last season brought a 5-0 win for City at Etihad Stadium and victory for Liverpool in a 4-3 thriller at Anfield, living up to the demands of Klopp and Guardiola, managers who have assembled teams built for goals.
It was not to be – this was a cagey and, at times, dull and tame affair.
Liverpool's attacking trident of Roberto Firmino, Mohamed Salah and Sadio Mane were unable to cause the damage they inflicted on City in last season's Champions League quarter-final, while Guardiola's intention was clearly to draw the early fire from Klopp's side.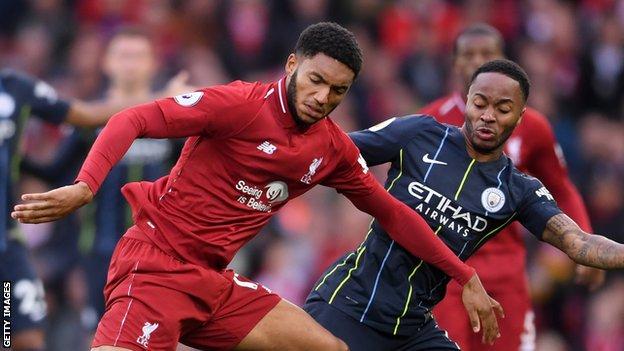 City had no intention of being drawn into the sort of Anfield battles that saw them over-run last season and led to suggestions that Klopp's intense, pressing style was one that Guardiola could not master.
Liverpool ran out of steam and ideas after the first 10 minutes, while City were content to slow matters down to throw cold water over the Anfield atmosphere – and in that respect it was highly effective as the home side, so irresistible in attack last season, barely troubled Ederson.
Klopp's side have now gone four games without a win after a flawless start to the season and the influence James Milner has on Liverpool was illustrated by their lack of direction after he went off injured in the first half.
City were the better side, but neither was able to produce the decisive moment.
Mixed emotions for Guardiola
Guardiola will have contrasting feelings at the end of a lacklustre game that only came into life fitfully in the second half.
The Spaniard, albeit a manager who always seeks victory, might have just settled for a point before kick-off, but he will be bitterly frustrated at how Mahrez wildly squandered that opportunity to end City's wretched run at Anfield.
Mahrez was hardly the natural choice to take the penalty, having missed three of his past five, and Gabriel Jesus seemed more than willing to step forward. It was an ill-judged decision as he sent his effort well over Alisson's bar and into the Anfield Road Stand.
City have lost on three occasions at Anfield under Guardiola so this is, to some extent, a satisfactory result, but the disappointment will come from the knowledge that it could have been even better.
Guardiola's side have previously been ripped apart on two occasions on this ground, but here they were composed, competitive and kept Liverpool's attack well under control, with John Stones and Aymeric Laporte producing two fine individual performances.
City and Guardiola may reflect on an important point later on in the season, but they will also know they had the ideal opportunity to stop a winless sequence at Anfield that now extends to 18 games.
Salah still searching for golden touch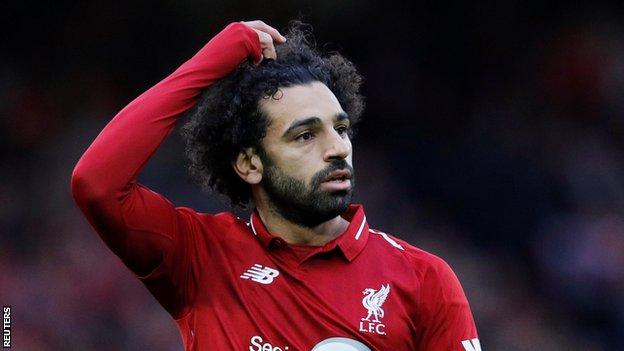 Salah was a scourge of Manchester City – and just about everyone else – as he scored 44 goals in a magical first season at Liverpool following his £34m move from Roma.
He scored a brilliant, instinctive goal from Ederson's misplaced clearance in Liverpool's league victory at Anfield last season and scored in both legs of their Champions League win against Guardiola's side.
The golden touch, for now, has deserted him and this was once again a fruitless 90 minutes for the Egyptian as he strived in vain for the form that illuminated his glorious first campaign.
Salah cut an increasingly frustrated figure, sending a half-chance tamely into Ederson's arms in the second half and was unable to wreak the sort of havoc that became his trademark last term.
The big plus for Liverpool and Salah is that his work-rate never drops and it may just be that one goal, perhaps even a fortunate one, will be the spark to re-ignite him.
The Kop have not lost faith, chanting his name and urging him on throughout – and they will be hoping their patience is rewarded.
'We tried to be ourselves' – what they said
Liverpool manager Jurgen Klopp:
"The start of the game was brilliant and we were spot on, unfortunately we couldn't maintain that level. You cannot rest in a game like that, but if there is any chance to rest, it is with the ball.
"It looked like a penalty, but the rest of the game was good. If you play City, you have to be 100% spot on and confident. I would say we were 90% spot on after Wednesday but it has come after a tough period."
Manchester City manager Pep Guardiola:
"We competed and we controlled them in terms of the counter attack with their front three.
"Our back four was so good and we enjoyed a lot of patient build up, but we didn't create much after that. It's a good result.
"We tried to win and we didn't concede at Anfield which is quite special. We had our chance and we tried to be ourselves."
More penalty pain for Mahrez – the stats
Pep Guardiola has won just one of his past eight managerial meetings with Jurgen Klopp in all competitions (D3, L4), and is winless in the most recent four (D1, L3).

Liverpool's return of 20 points is their joint-most after eight games of a Premier League campaign, having also done so in 1996-97 and 2008-09.

With Chelsea, Liverpool and Manchester City all yet to suffer a league defeat this term, this is just the second time in Premier League history that as many as three teams have gone unbeaten in their opening eight games of a single season (also 2011-12, with Manchester City, Manchester United and Newcastle United).

Manchester City had 51% possession at Anfield; their lowest in a Premier League game since Pep Guardiola took charge of the club.

Manchester City striker Sergio Aguero has played 10 matches in all competitions at Anfield in his career (eight with Man City, two with Atletico Madrid), failing to score in any of those games.

Among players to have taken at least 10 penalties in the Premier League, only Juan Pablo Angel (50%) has a lower success rate than Manchester City's Riyad Mahrez (58%).
Man of the match – Bernardo Silva (Manchester City)