Counselling /Therapy (a)Tinnitus Retraining Therapy (TRT) – This method teaches an individual to teach the brain to learn to ignore tinnitus (habituation).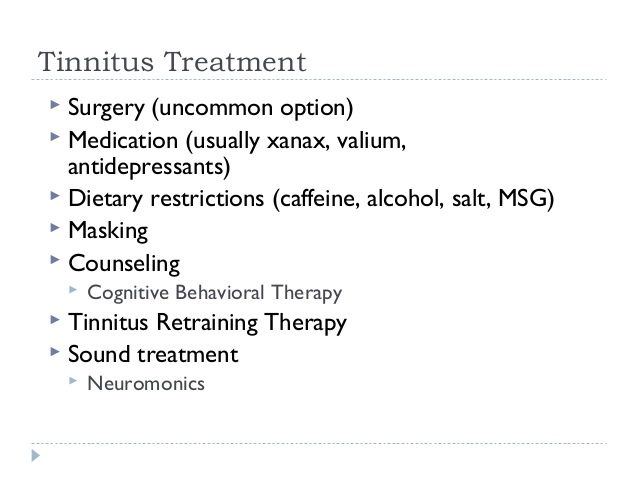 This involves use of devices generating some kind of noise e.g. broadband noise to divert attention of the patient away from the tinnitus. It involves extensive assessment into the tinnitus effects.
Concentration and relaxation techniques e.g. breathing exercises are incorporated to help reduce the anxiety. (b) Cognitive Behavioural Therapy (CBT): It involves addressing the negative reactions to tinnitus by an individual.
It focuses on reducing the distress induced by tinnitus and constructing more positive and practical thoughts about their situation.
Lifestyle changes:
• Avoid exposure to loud sounds & use ear muffs/defenders when in loud environments
• Getting enough sleep, avoid fatigue
• Exercising
• Avoiding "Total silence" by playing low-level background sounds e.g. soft music, some switch on the fan in the summer
• Diet modification -reducing salt intake, coffee, tea , fizzy drinks , tobacco, alcohol
• Stress management
It is important to check the nearest health facility when presenting with tinnitus symptoms. Referral to Audiologists and ENT doctors is highly recommended as they are trained more on tinnitus management.
Understanding and learning about tinnitus can help alleviate the distressing symptoms and make it less bothersome. 𝐂𝐨𝐧𝐭𝐫𝐢𝐛𝐮𝐭𝐨𝐫: 𝐍𝐚𝐤𝐨 𝐌𝐨𝐨𝐤𝐞𝐭𝐬𝐢-𝐀𝐮𝐝𝐢𝐨𝐥𝐨𝐠𝐢𝐬𝐭
Hits: 950