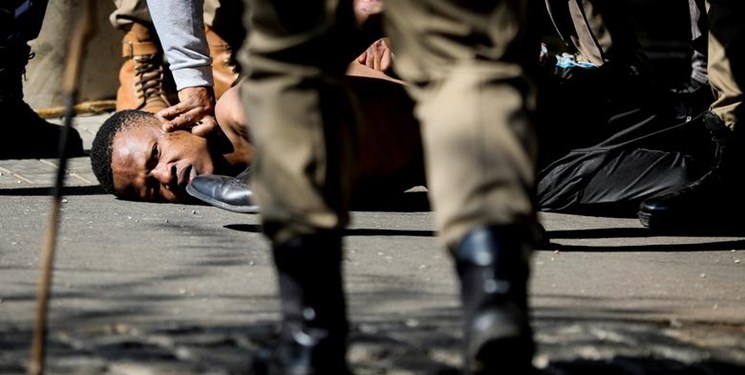 "We received reports of six more deaths. The total death toll in Gauteng province was 32, and 137 more people were detained. In total, 862 people were detained in Gauteng. … In the province [of KwaZulu-Natal] 89 more victims are reported, total the death toll is 180. In total, 1,692 detentions were made in the province," Ntshaveni noted at a briefing broadcast by the SABC News TV channel.
South African President Cyril Ramaphosa has said the weeklong looting and deadly unrest that have rocked the country were "planned".
"It is quite clear that all these incidents of unrest and looting were instigated, there were people who planned it and coordinated it," Ramaphosa noted, but did not mention any group or individuals by name.
"We are going after them, we have identified a good number of them and, we will not allow anarchy and mayhem to just unfold in our country," he further told reporters.
The unrest was sparked by the jailing of Ramaphosa's predecessor Jacob Zuma on July 8, but the situation has evolved into an outpouring of anger over persistent poverty and inequality in South Africa, 27 years after the end of apartheid, with the economic effects of restrictions imposed over the coronavirus pandemic having exacerbated the situation.
Zuma, who has the support of the poor and loyalists in the ruling African National Congress (ANC), began a 15-month jail term for snubbing a corruption investigation.
During the past week, shopping malls and warehouses have been looted in two provinces, raising fears of shortages and delivering a stinging blow to the economy.
Analysts estimate that thousands of businesses have been plundered in what Ntshavheni described as "economic sabotage" masterminded by a dozen of suspects.
South Africa's Constitutional Court was on Monday asked by Zuma's lawyers to review its decision on jailing the 79-year-old former president for contempt of court. The court has reserved its judgment for a later but unspecified date.
Zuma was removed from office by his ruling African National Congress (ANC) in February 2018, in a move orchestrated by the allies of Ramaphosa.
He was forced to resign when ANC lawmakers turned against him over accusations of having links to the wealthy India-born Gupta family, who are alleged to have influenced his government. Zuma and the Guptas, however, deny the allegations.
Zuma is a former anti-apartheid activist who spent 10 years in the notorious Robben Island jail off Cape Town. The former president is popular among many poor South Africans, especially the grassroots members of the ANC, who see him as a defender of the disadvantaged.
Hits: 2