Produced and written by Miriam Walker-Khan | BBC SPORTS
n 25 May 2020, George Floyd was murdered in Minneapolis by a man whose job was to protect the public.
The whole world witnessed as video footage of white police officer Derek Chauvin kneeling on George Floyd's neck went viral. Millions around the globe saw a 46-year-old black man brutally restrained for more than nine minutes.
They heard him say more than 20 times that he could not breathe.
They heard him plead for his mother.
They watched as Chauvin kept a knee pressed down on his neck.
George Floyd was motionless by the time the ambulance arrived, and an hour later he was pronounced dead.
It wasn't the first example of police brutality caught on film, but what made this different was the reaction it sparked.
Before long it felt like everyone everywhere knew what had happened. Something powerful was building across the world. Through it all, sport offered a stage for those feelings to be expressed.
One year on from George Floyd's death, Chauvin has been convicted of murder. Racism is being called out like never before, and it feels as if people are finally listening.
There has been a lot of reaction from the world of sport over the past year. But there is a lot of progress still to be made.
A summer of protests
There's no doubt that the coronavirus pandemic's effects on the sporting calendar gave people time to reflect.
Last June, world heavyweight boxing champion Anthony Joshua addressed the crowd at a Black Lives Matter protest in his hometown of Watford.
"The virus has been declared a pandemic," he said. "This is out of control. And I'm not talking about Covid-19.
"The virus I'm talking about is called racism.
"We stand united against a virus which has been instrumental in taking lives of the young, old, rich, poor: a virus which is unapologetic and spreads across all sectors."
"We can no longer sit back and remain silent on these senseless, unlawful killings and sly racism on another human being – based only on what? Their skin colour."
As sport gradually returned, protest came with it. Players taking the knee quickly became the norm.
American footballer Colin Kaepernick had done it in 2016. Back then, he drew fierce criticism and was eventually left without an NFL team.
But in June 2020, the NFL said it had been "wrong for not listening to players earlier" and encouraged "all to speak out and peacefully protest".
Now, in a striking contrast to the treatment Kaepernick had received for taking a knee just a few years before, it was instead the athletes not joining the protests in the summer of 2020 who made headlines.
When the interrupted Premier League season resumed on 17 June, all players took the knee before kick-off.
Days after his campaigning led to the UK government reversing a decision not to provide school meal vouchers for around 1.3 million children in the summer holidays, Manchester United forward Marcus Rashford raised his fist in a Black Power salute on the pitch at Tottenham.
And when, under a week later, a banner reading "White Lives Matter Burnley" was flown over Etihad Stadium during their away match at Manchester City, Burnley captain Ben Mee said he was "ashamed".
In Formula 1, the sport's only black driver was speaking out too.
Some were uncomfortable with taking a knee. Lewis Hamilton said their reluctance was due to a lack of understanding. A meeting was held before the Austrian Grand Prix on 5 July.
"There are still some people who don't fully understand what is happening and the reason for these protests," Hamilton said. "I continue to try to be that guider, to influence as many people as I can with it."
A week later, after winning the Styrian Grand Prix, he raised his fist in a Black Power salute as he stood on his car, and did so again on the podium.
"People talk about sport not being a place for politics but ultimately it is a human rights issue that we're trying to highlight."
On 9 July, Major League Soccer restarted. The following day, Montreal Impact boss and Arsenal legend Thierry Henry paid tribute to George Floyd by kneeling for the first eight minutes and 46 seconds of their first game back. He did so to represent the amount of time Derek Chauvin knelt on George Floyd's neck before he died.
The same week, former West Indies cricketer and commentator Michael Holding spoke powerfully in a video clip that went viral and later won an award.
"The dehumanisation of the black race is where it started," he said. "I remember my school days. I was never taught anything good about black people.
"History is written by the conqueror, not by those who are conquered. History is written by the people who do the harm, not by the people who get harmed, and we need to go back and teach both sides of history."
Boxing legend Johnny Nelson said of Chauvin: "If a man can literally kill somebody, and look in the camera while he is doing it – what has been happening up to that point to make him feel so comfortable in doing that?"
It felt like people were talking, and actually being listened to. Maybe there would be change…
On 23 August 2020, Jacob Blake, a 29-year-old black man, was shot seven times in the back in Kenosha, Wisconsin.
The police officer who shot him was trying to arrest him as he got into his car, where his three children were sitting.
Police representatives claimed Blake was armed with a knife and refused to drop it. State investigators later said only that officers had seen a knife on the floor of the car and did not say whether Mr Blake had threatened anyone with it.
A bystander who recorded the incident said he didn't see Blake holding a knife. No officers were charged over the shooting.
Following the shooting, the Milwaukee Bucks called off their NBA game against the Orlando Magic on 26 August, exactly four years after Kaepernick's protests were first noticed by the media.
Bucks players released a statement that said: "Despite the overwhelming plea for change, there has been no action, so our focus today cannot be on basketball.
"When we take to the court and represent Milwaukee and Wisconsin, we are expected to play at a high level, give maximum effort and hold each other accountable."
Part of the statement was read out by then-Bucks player Sterling Brown, who was Tasered and violently restrained by police after parking in a disabled car parking space in 2018. Brown sued and is set to be awarded $750,000 in a settlement that also promises policy change.
"We are calling for justice for Jacob Blake and demand the officers be held accountable."
Former US president Barack Obama wrote on Twitter: "I commend the players on the Bucks for standing up for what they believe in."
Serving president Donald Trump said that the NBA had become "like a political organisation".
On 26 August, WNBA players from the Atlanta Dream and Washington Mystics protested against the shooting of Jacob Blake by wearing T-shirts with holes in them representing how many times he was shot by police.
Other teams, across all major sports all over the United States, also postponed games.
Tennis star Naomi Osaka withdrew from her semi-final at the Western & Southern Open in New York, saying: "Watching the continued genocide of black people at the hand of the police is honestly making me sick to my stomach.
"As a black woman, I feel as though there are much more important matters at hand that need immediate attention, rather than watching me play tennis.
"I don't expect anything drastic to happen with me not playing, but if I can get a conversation started in a majority white sport, I consider that a step in the right direction."
During the US Open in September, Osaka decided to do more. She wore a different face mask during each one of her seven matches at the tournament, all the way to her victory in the final. Each mask had the name of a black victim or alleged victim of police brutality or racist violence in the US.
Osaka wore masks bearing the names of Ahmaud Arbery, Breonna Taylor, Elijah McClain, George Floyd, Philando Castile, Tamir Rice and Trayvon Martin.
The families of some of these victims have thanked her publicly for wearing the masks, recording video messages which were played for her on the set of sports broadcaster ESPN.
She said the messages left her feeling "really grateful and… really humbled".
"I was just trying really hard not to cry," she said.
When asked what message she had wanted to send, she replied: "Well, what was the message you got is more the question?"
"Before I am an athlete, I am a black woman."
Lewis Hamilton also continued to highlight other victims of police brutality in the US.
On 13 September at the Tuscan Grand Prix, he wore a T-shirt bearing the words: "Arrest the cops that killed Breonna Taylor."
Breonna Taylor, a paramedic, was 26 years old when police shot and killed her in her Kentucky home in March 2020. They had forced entry using a "no-knock" warrant that meant they didn't announce themselves.
During post-race interviews and on the podium, Hamilton wore the T-shirt again and said:
"I wanted to bring awareness to the fact that people are being killed on the street and someone was killed in her own house. They were in the wrong house and those guys are still walking free."
"It's been six months since Breonna Taylor was murdered by policemen in her own home. Still no justice has been served. We won't stay silent."
In January 2021 two police officers who carried out the raid were sacked.
That same month, it was announced that no police officer would face criminal charges over Jacob Blake's shooting, which was captured on video. He was left paralysed from the waist down.
In April, the US Justice Department ordered an investigation into the Louisville Police Department in Kentucky over Breonna Taylor's death.
Hamilton and Osaka were able to be persistent in raising awareness of police brutality. But on what is perhaps sport's greatest stage, voices like theirs are about to be silenced.
Almost a year on from the death of George Floyd, the world of sport has seen hundreds, if not thousands of athletes protesting against racial injustice on a global scale.
But on 22 April 2021, the International Olympic Committee (IOC) confirmed that acts of protest – such as taking a knee – will continue to be banned at the Olympic Games, which begin in July. There had been pressure to relax the rules after George Floyd's death triggered anti-racism protests across sport.
During a 10-month consultation process, the IOC asked 3,547 athletes whether its 'Rule 50' – which bans demonstrations – should change.
A total of 67% said they wanted to keep the Olympic podium free of protests and 70% were keen to avoid on-field demonstrations.
Rule 50 states: "No kind of demonstration or political, religious or racial propaganda is permitted in any Olympic sites, venues or other areas."
The IOC says the rule exists to "protect the neutrality of sport" and make sure "the focus at the Olympics Games remains on performances, sport, unity and universality".
Gwen Berry, who competes in the hammer throw for the USA, responded with a powerful post on Instagram.
"It is easy for the individuals to say leave personal issues out of sports. That luxury is afforded to those who will never have racial injustices against them affect their day."
In 1968, Carlos and Smith were suspended for their actions and sent home by the USA team.

Fifty-three years later, the IOC has said sanctions for those who breach the rule in Tokyo will be considered.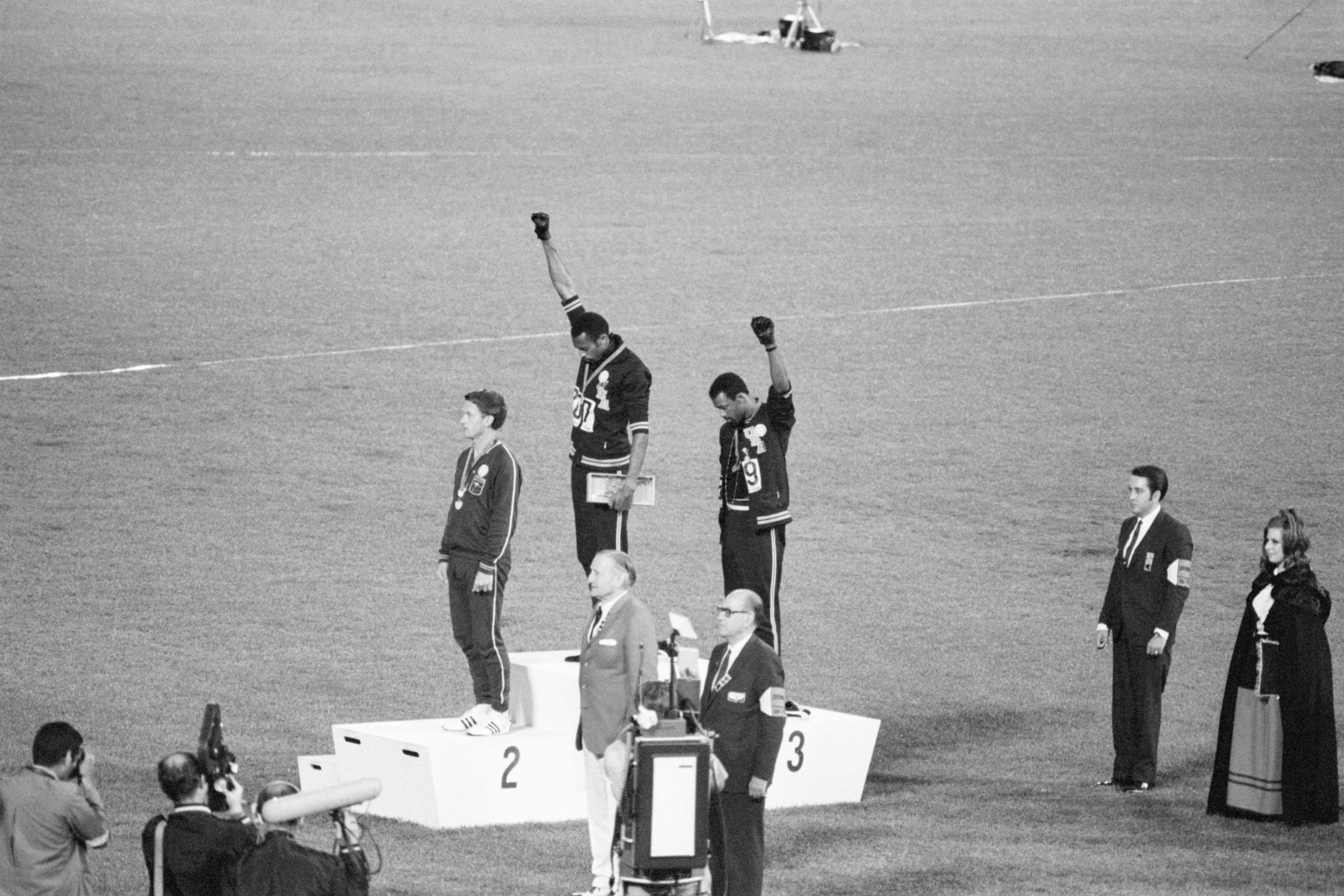 Olympic long jump champion Tianna Bartoletta had another defiant response to the ban.
"What the IOC has failed to understand is that we weren't asking for permission. We were extending an invitation," she wrote on Twitter.
"For some athletes, the Olympics is the only place where somebody is going to listen to them," she added in an interview with Women's Running magazine.
"When we are using our bodies as entertainment or sport, that's the only time some of us experience respect and integrity. So telling athletes who have made it to this point that they can't demonstrate tells them: 'Your journey here is not important enough to disrupt the image we want to portray to the world.'
"As exhausted as we all are for a bunch of different reasons, some of us will choose this battle, and some of us won't.
"The point is, you should be allowed to choose your own battle."
Has anything actually changed in the year since George Floyd died and sport started protesting?
In the world of football, racism is as rife as ever.
Fans may not have been in stadiums for most of the past year, but players have regularly been sent horrific abuse on social media.
Recently, it has felt like there have been weeks on end where every single day a different player has been racially abused online. In late April, a social media boycott was observed by clubs, athletes and sporting bodies, in an attempt to tackle discrimination.
While we can't yet know what its impact will be, some sport is slowly getting back to normal after the Covid-19 pandemic.
But maybe normal isn't what we need.
Figures for the 2019-20 season, the last that had grounds full with fans, showed that 287 football matches in England had incidents of hate crime reported to police, with racist or indecent chanting more than doubling.
Anti-discrimination charity Kick It Out said there had been a "shocking" 42% increase in reports it had received of discrimination in English professional football last season, despite a large part of it behind played behind closed doors.
With restrictions lifting and supporters returning to stadiums, many fans booed players taking the knee before the FA Cup final at Wembley. The same thing had happened in December – at several grounds around Britain.
Anthony Joshua said racism was an out-of-control virus in society. Is this why some feel threatened when athletes take a stand against it, even if it's just by taking a knee before a football game?
Kick It Out made a plea last week. "We would ask supporters, especially as they return to grounds across the country, that they support players in whatever stand they choose to take in the fight against discrimination," its chief executiveTony Burnett said.
"Football belongs to everyone."
In April, the power of fan protests was highlighted as the proposed European Super League was derailed within a few days. Leeds United's Patrick Bamford said "it's amazing the amount of uproar that comes into the game when somebody's pockets are being hurt" and that it was a "shame" that uproar wasn't there for racism in football.
So where do we go from here?
Many say that athletes should keep quiet and focus on their sports, but has George Floyd's death changed the relationship between sport and protest forever? It's clear that taking away the right to protest at the Olympics, or booing those who take a knee, won't and can't stop people from speaking out.
Not now they've found their voice before a global audience and are fighting for a world where racial equality exists.
In that sense yes – sport has changed. But it's just the beginning.
CREDITS
Written and produced by Miriam Walker-Khan
Illustrations by Kingsley Nebechi
Special thanks to Amy Miveld, Patrick Jennings, Patsy Goodwin and Phil Dawkes
Photos: Getty Images
Sub-editors: Reece Killworth and Mike Whalley
Editor: Ian Singleton
Publication date: 25 May 2021
Hits: 63