Arsenal boss Mikel Arteta has accused officials of "changing the rules" after claiming Brentford's equaliser in the 1-1 draw at Emirates Stadium should have been ruled out for offside.
The Gunners had taken the lead in the second half when Leandro Trossard scored his first goal for the club.
But Ivan Toney levelled when he nodded in Christian Norgaard's cross from close range.
"I just looked back and it is offside, yes," said Arteta.
Toney's celebrations were delayed for a lengthy check by the video assistant referee (VAR).
Norgaard appeared to be offside in the build-up to the 74th-minute goal, while there was a suggestion Ethan Pinnock blocked Gabriel Magalhaes while in an offside position prior to that.
However, the decision to award the equaliser stood, leaving Arteta frustrated.
"The action when you get blocked when you are offside – you cannot block if you are offside," the Arsenal boss added.
"You have to apply certain principles in defending and you do that by sticking to the rules. Suddenly you change the rules and then you have to change your principles.
"So tell us before, so then you don't hide the line that high, because you're always going to have an advantage if you get blocked."
On the controversial strike, Brentford boss Thomas Frank said: "I agree that when they kicked the ball, Ethan (Pinnock) is in an offside position.
"Then, as far as I know the football laws, the next question is did he influence the cross? They decided it was not enough and I agree."
The point meant Arsenal are now six points clear of Manchester City, who play Aston Villa on Sunday and then visit the Gunners on Wednesday.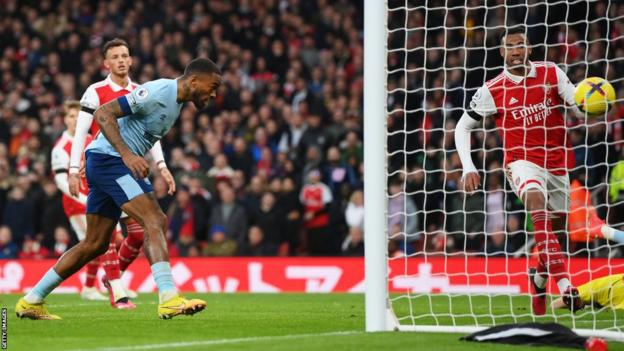 'I can understand Arsenal anger at the incompetence'
Former Liverpool midfielder Danny Murphy analysed the Brentford goal on Match of the Day on Saturday and was highly critical of those in charge of the video technology.
"Arsenal weren't at their best but I can understand why they are angry at the incompetence of the VAR officials," said Murphy. "It was a horrendous decision.
"The first one is Pinnock blocking Gabriel and he is an offside position. He's stopping Gabriel getting to the ball where Toney is at the back.
"Now if they think that he couldn't have got there and it was just a block and they weren't sure on the offside, maybe you could understand that. But even if he's not blocking him, he is offside.
"They spent three minutes looking at that. The fact they are taking so long on that and panicking a bit, they have then clearly missed the worst offence of all which is the header down, again from Pinnock. Norgaard is obviously in an offside position, but they missed it.
"I am amazed it happened. We have been doing VAR for a long time now. I am also amazed because that should be the first thing they check because it is the last thing that happens directly before the goal."
Other VAR incidents on Saturday
There was more VAR controversy elsewhere on Saturday when Chelsea were denied a late penalty against West Ham, despite Tomas Soucek appearing to block Conor Gallagher's shot with his arm.
The incident was checked but no further action taken.
Murphy said on Match of the Day: "It deprived Chelsea of a win. It was unfathomable. He falls over and saves it with his hands. It is so blatant. It is a lack of understanding of football.
"It is getting to a point where it is difficult to comprehend how inefficient VAR is."
Meanwhile, Brighton had a goal incorrectly ruled out for offside because of a human error by the VAR operator in their draw at Crystal Palace.
Pervis Estupinan looked to have put the Seagulls in front in the first half.
VAR John Brooks intervened and ruled the Ecuador defender to be offside when he received Pascal Gross' pass.
However, the offside line was wrongly drawn from James Tomkins rather than his fellow Palace defender Marc Guehi, who was standing just behind him.
If the line had been drawn from Guehi, Brighton's left-back would have been onside and the goal would have stood.
Former England striker and Match of the Day presenter Gary Lineker tweeted: "The VAR process is seriously flawed. Needs a rethink. Mistakes and ludicrous delays for obvious decisions are sucking the life out of the game."
Ex-England captain Alan Shearer added: "It has been an awful day for VAR. You couldn't make this up. They put the line in the wrong place.
"I don't know what else to say apart from horrendous day for VAR. A terrible, terrible day for the officials and VAR"
Source:BBC