The video below is copyright free and can be used at will, without asking for authorization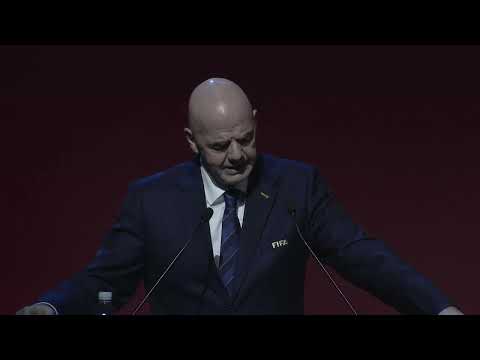 DOHA, QATAR, November 20, 2022/APO Group/ –FIFA 
(www.FIFA.com)
 President Gianni Infantino delivered his opening remarks at the FIFA Global Summit in Doha on the eve of the FIFA World Cup 2022™ that begins later on Sunday.
Qatar kick-off the FIFA World Cup 2022™ against Ecuador on Sunday November 20.
The video submission includes FIFA President Gianni Infantino's speech, in three separate VNRs.
Download the B-Roll and dopesheet: https://bit.ly/3V5h5c0
Distributed by APO Group on behalf of FIFA.
Watch the video
DOHA, QATAR, November 20, 2022/ — FIFA (www.FIFA.com) President Gianni Infantino delivered his opening remarks at the FIFA Global Summit in Doha on the eve of the FIFA World Cup 2022™ that begins later on Sunday.

Qatar kick-off the FIFA World Cup 2022™ against Ecuador on Sunday November 20.

The video submission includes FIFA President Gianni Infantino's speech, in three separate VNRs.

Download the B-Roll and dopesheet: https://bit.ly/3V5h5c0

Distributed by APO Group on behalf of FIFA.

SOURCE
FIFA

Multimedia content