Federation of Uganda Football Association president Moses Magogo says the federation envisions Uganda as Africa's number one footballing nation.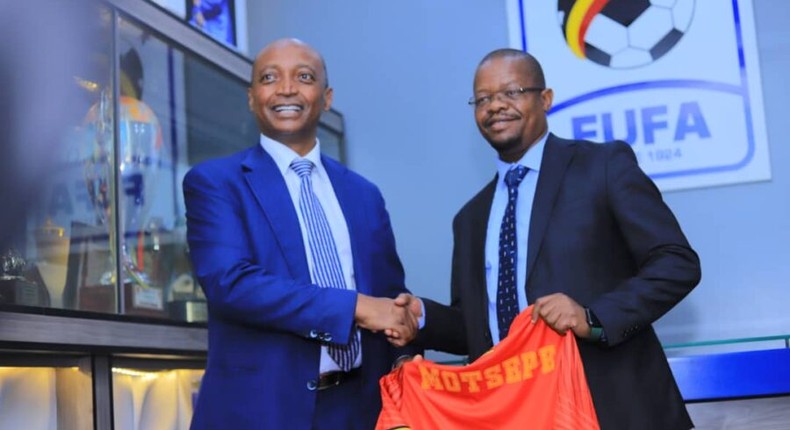 Magogo made the ambitious remark while hosting CAF President Dr. Patrice Tlhopane Motsepe yesterday.
"Our vision as FUFA is to become the number one footballing nation in Africa on and off the pitch. And to achieve that, we have set ourselves targets. The key targets include; creating a professional industry, taking football to every homestead, and attaining excellence at the highest level", he said.
According to the latest FIFA rankings, Uganda is rated in the 90th position and 18th in Africa.
Dr Motsepe noted that Uganda holds a special interest in South Africa given its historical relationship.
"I am happy to be in Uganda. Where I come from (South Africa) we have always known Uganda as a good place. We know about Makerere University and the close relationship between Uganda and South Africa in the fight against apartheid."
He added that while meeting President Museveni today, he will encourage government to take special interest in investing in Uganda sports sector.
"When I meet President Museveni, I will talk about the importance of football, sports in general and how this sector can help transform society. We are looking at empowering every Member Association through different aspects such as capacity building and funding. CAF is looking at giving every MA at least 1M USD to help in developing and prompting the game."
The visit comes a time when the president is reportedly interested in hosting Africa Cup of Nations in 2027.