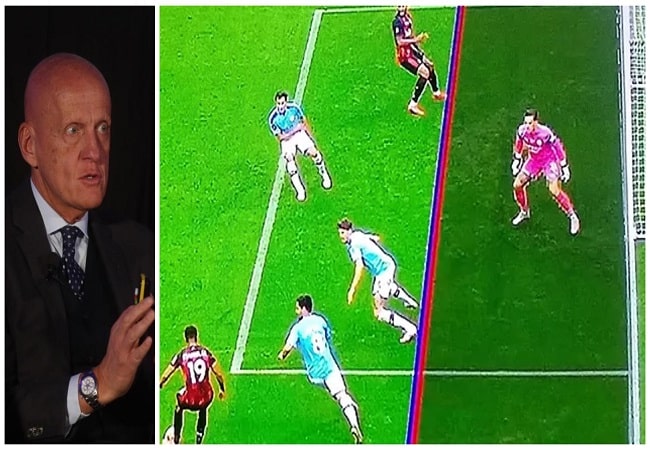 FIFA has adopted an artificial intelligence system to regulate the offside lines instead of VAR for the upcoming World Cup to take place in Qatar late this year.
According to ESPN, the idea behind this technology is to reduce the amount of time it takes to get the tightest of offside calls right. At the moment 70 seconds is the average time. And it's hoped that this will drop right down to 25 seconds.
Also Read : FIFA ANNOUNCED THE LIST OF MATCH OFFICIALS APPOINTED FOR FIFA WORLD CUP QATAR 2022
A 3D animation of the offside situation will be shown on the big screen as well as on the TV coverage for fans watching at home.
Former Arsenal manager Arsene Wenger, now working as FIFA's chief of global football development, has been a great advocate for the technology.
Also Read : ARSENE WENGER SHAKES THE WORLD WITH HIS PASSION FOR AFRICAN FOOTBALL
12 cameras placed under the roo the stadium will track 29 body parts of every individual player, while a sensor will be placed in the Adidas World Cup ball and record data 500 times per second.
The technology will then notify the officials. Eight people will be in the VAR room each game in Qatar for the tournament, where England start their campaign against Iran on 21 November.
Also Read : FIFA UNVEILS CITIES TO HOST 2026 FIRST EVER 46 TEAMS WORLD CUP
Live trials took place in February at the Club World Cup, a tournament Chelsea participated in after winning the Champions League.
They were deemed to have been a successful. And Al-Jazira striker Alameri Zayed made history in become the first player to have a goal chalked off through semi-automated technology.
It's said that the Premier League could introduce it in the 2023/24 season should all go well in the World Cup.
"This is not 'robot refs' as some people have called it. Because the officials still take the final decision." FIFA's head of referees Pierluigi Collina said.
"It is semi-automated offside technology – SAOT – and means faster and more accurate decisions, to a matter of millimetres.
"Then the animations will be automatically generated, with the body parts that are offside – or onside – clearly shown on giant screens or on TV once the decision has been validated by the VAR officials.
"Of course decisions about interference by offside players will still be taken by the officials. That does not change.
"But the objective was to have a system like Goal Line Technology, which has been praised by everybody and the tests mean we can implement it at the World Cup."