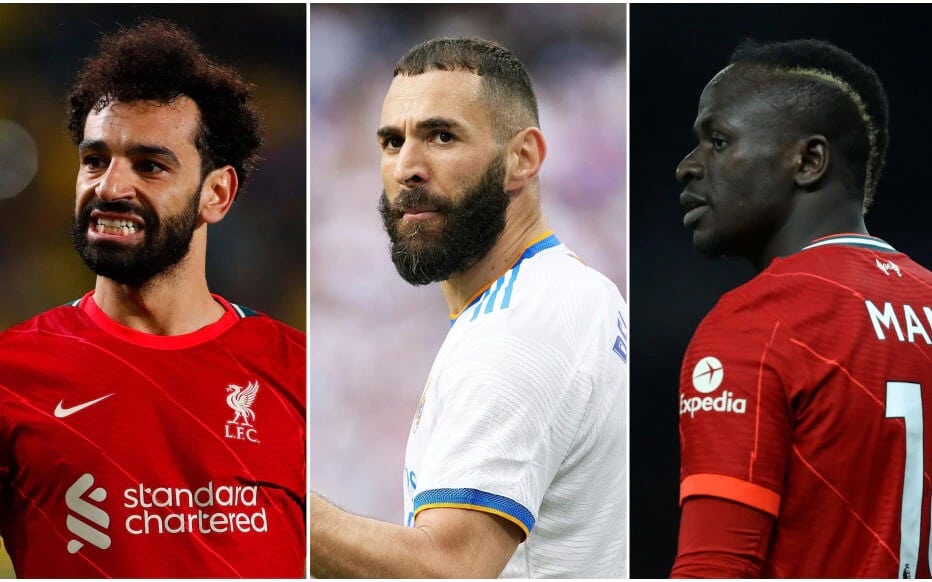 Ahead of the UEFA Champions league final next Saturday, the Ballon d'Or 2022 Favourites Raking has been upgraded with African stars Sadio Mane and Mohamed Salah sitting on top positions alongside Karim Benzema.
Despite losing the Premier League title on the penultimate matchday as Man City clinched their fourth in five years, Salah and Mane still have chances to win this year's ballon d'or.
The Egyptian who ended the league being the Top scorer (23 goals) and with the most assist is now third on the favourites' list.
Read more : Karim Benzema destroys Mo Salah ahead of UCL final
On the other hand, Sadio Mane scored less than the Pharaoh but appeared to be decisive several times this year both for his country (Senegal) which he helped win their first-ever AFCON and for Liverpool especially towards the end of this season.
A Liverpool triumph in next Saturday's Champions league final will boost their chances to win the highly-coveted award.
Riyad Mahrez is the third African player in this ranking.
Latest Ballon d'Or 2022 Favourites (Goal)
20- Rafael Leao (AC Milan)
19- Riyad Mahrez (Man City)
18- Rodri (Man City)
17- Heung-min Son (Tottenham)
16- Virgil Van Dijk (Liverpool)
15- Christopher Nkunku (RB Leipzig)
14- Thibaut Courtois (Real Madrid)
13- Thiago Alcantara (Liverpool)
12- Luis Diaz (Liverpool)
11- Bernardo Silva (Man City)
10- Trent Alexander-Arnold (Liverpool)
9- Phil Foden (Man City)
8- Luka Modric (Real Madrid)
7- Vinicius Jr (Real Madrid)
6- Kevin De Bruyne (Man City)
5- Kylian Mbappé (PSG)
4- Robert Lewandowski (Bayern Munich)
3- Mohamed Salah (Liverpool)
2- Sadio Mane (Liverpool)
1- Karim Benzema (Real Madrid)
Ballon d'Or 2022 favourites : Latest Ranking as Mane, Salah, Benzema remain on Top (africatopsports.com)