ERIK TEN HAG – EXCLUSIVE
The new era is here. Erik ten Hag has arrived in style at Old Trafford and United fans are buzzing after hearing what he has to say. To ensure you're up to date, check out this round-up of exclusive news, videos and more!

Erik ten Hag wants Manchester United back in the Champions League at the end of his first season in charge with the club.

The Dutchman was unveiled as the Reds' new manager at a press conference on Monday, the day after it was confirmed that United would be playing Europa League football in 2022/23 after finishing sixth in the table.

The long-term ambition, of course, is for United to once again be challenging for the Premier League title but the 52-year-old has his sights set on qualification for Europe's premier competition as a first target.

That can be confirmed via a top-four finish in the league next term, or by winning the Europa League to clinch a seeded berth in the Champions League group stages, which United successfully did under Jose Mourinho in 2017.
TEN HAG: A MANAGER'S LIFE IS 24/7
The former Ajax man spent his first day at Old Trafford on Monday (23 May), and is keen to get down to work as early as possible as he aims to get the Reds back on track ahead of the 2022/23 season.
His work ethic and drive was there for all to see when he was unveiled to the media shortly after arriving at the Theatre of Dreams.
And he gave further indication of his determination during his first interview with club media, too, where he explained that preparing for a season is something that requires complete dedication.
Part 2: Our big interview with Ten Hag Video
PART 2: OUR BIG INTERVIEW WITH TEN HAG
"Of course, you need time to relax, to gather energy," he told MUTV's Pien Meulensteen, in the second part of our exclusive interview.
"But in the end, a manager is 24/7. You live for football and if you want to prepare a season and if you have to prepare a team from game to game, we have to play a game every three days so it's a lot about football.
"You sleep and you live football."
And that approach is not a recent development in Ten Hag's career, either. He admitted that he had already acquired some of the behavioural traits and mannerisms of a coach while he was still in his playing days.
"Honestly, I was, as a player, already half a manager," he smiled.
"I always had the communication with the manager. Many trainers I had a good connection with, and they used me on the field as a communicator and to bring up the vision they had, that they wanted to bring over to the team."
Erik's family own a real estate company back in the Netherlands, so he comes from a background full of similarly successful, hard-working individuals.
And his very evident eagerness to get grafting in M16 will be music to the ears of the United fans.
But Ten Hag did confess to a few non-footballing interests in our chat – which you can watch in full today on ManUtd.com and the United App.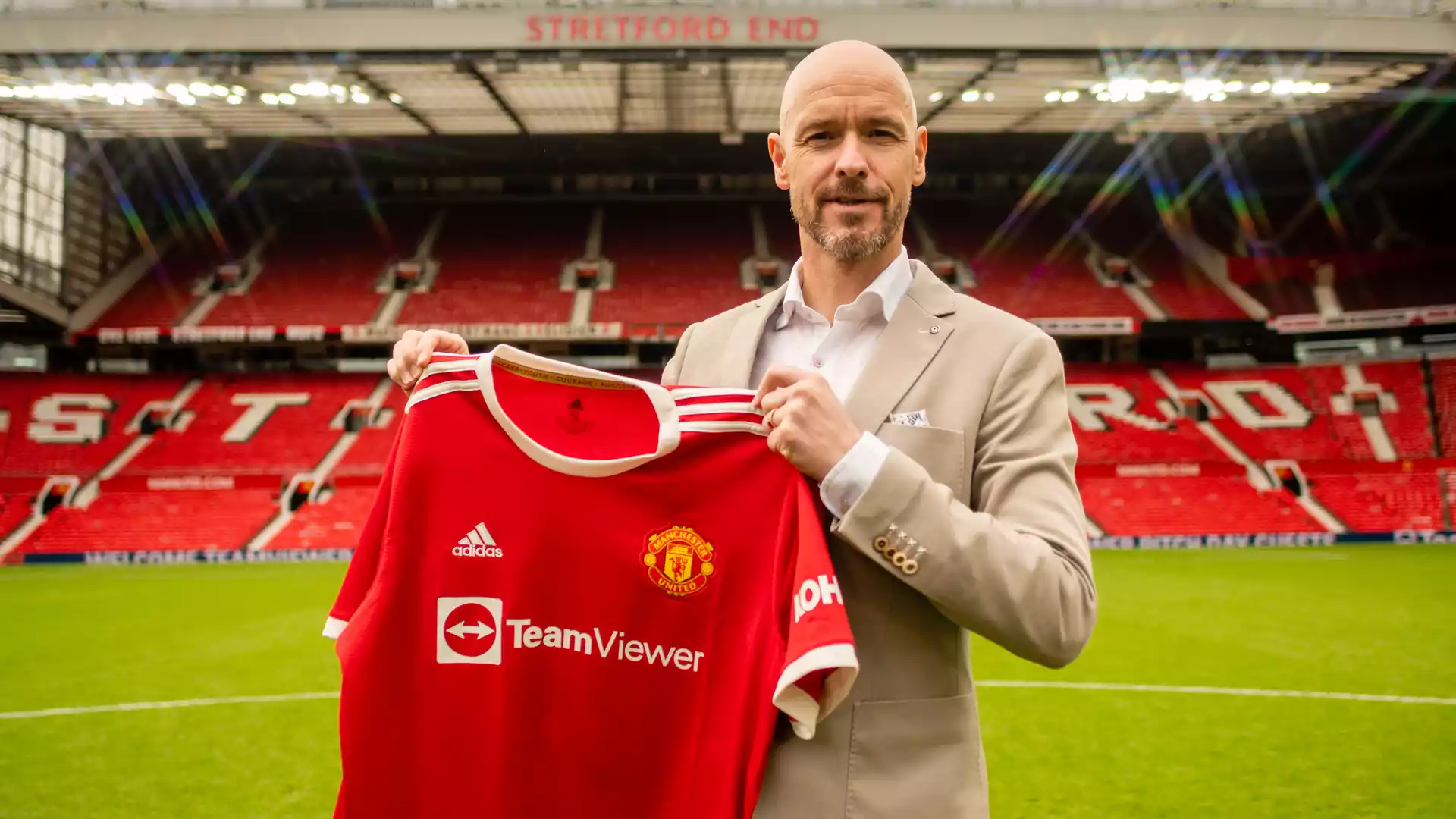 FIRST PICS OF TEN HAG AT OLD TRAFFORD
 Gallery
Must-see | Exclusive images of Erik's first day at Old Trafford…
"What do I do to relax? My family – spending time with my wife, my kids and my dog," he said.
"A little bit of sport, like jogging or hiking or golf. Things like that. There's plenty of hiking and golf to do around Manchester? Good!"
We're pleased to hear Erik is able to enjoy himself away from football. But given his obsession for the sport, and with plenty to do at United over the summer, it sounds like the Peak District might have to wait!