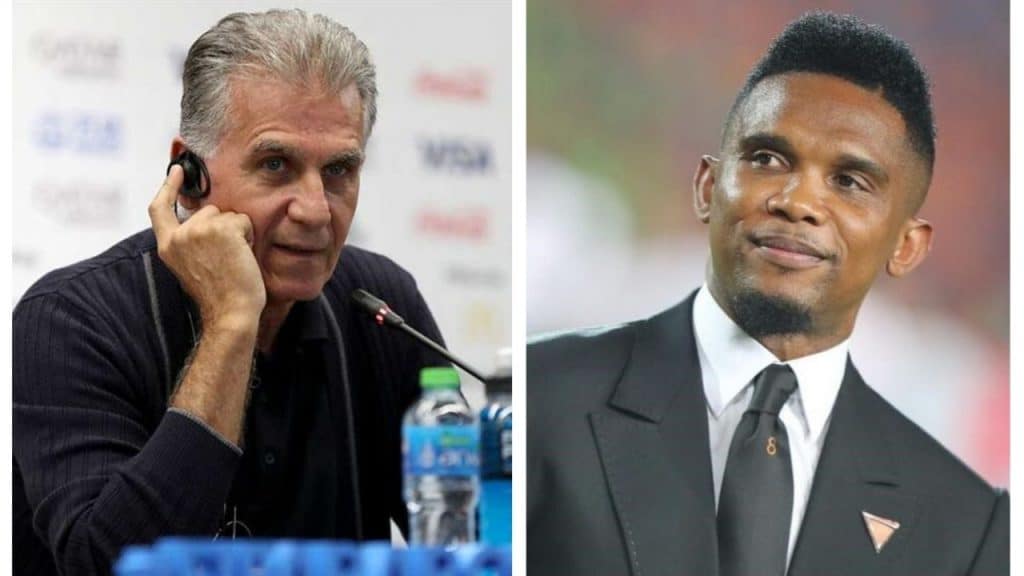 Egypt head coach Carlos Queiroz responded to Samuel Eto'o who told Indomitable Lions that their AFCON 2021 semi-final clash against Pharaohs on Thursday will be a "war".
This comes after the Portuguese manager was asked during his pre-match press conference, to give his comment on the declaration of the Fecafoot president in the dressing room in front of Antonio Conceiçao's men last week after the 2-0 win over Gambia in quarter-final.
And the former Portugal coach first bemoaned the fact that a legend like Eto'o uttered such a speech.
The 68-year old tactician further said the former Barcelona and Inter Milan striker shows that he learnt nothing from his professional career.
Read more : It's going to be a war, Samuel Eto'o tells Indomitable Lions ahead of Cameroon vs Egypt clash
"This is an unfortunate comment and a very bad message to the people of Cameroon", Queiroz said.
"I think he forgot that Cameroonians died at the stadium several days ago, and so making this declaration of war before a match shows that he has learned nothing from his time in professional football.
"It was a very, very unfortunate comment, because football is not a war, it is a celebration, joy and happiness.
"We will respond to war with football, we will respond to football with joy. We are here to make people happy, not to kill them, but to give them pleasure and joy", he concluded.
Carlos Queiroz destroys Samuel Eto'o after his 'War' comment on Cameroon vs Egypt clash (africatopsports.com)